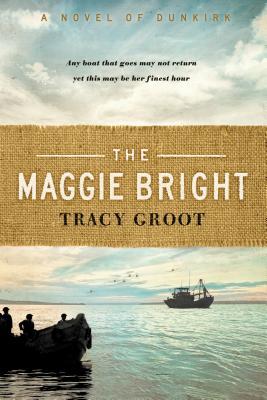 The Maggie Bright: A Novel of Dunkirk





With the new Dunkirk film being released this year, this book has been published at the perfect time! I personally did not know much about Dunkirk before reading this book from popular Christian author Tracy Groot. As with much historical fiction, this book gives a good perspective on the actual events, opening the reader's eyes allowing him to experience the events through reading. This book was difficult to begin. The writing style was at first confusing as were the characters. However, almost magically, three chapters into the book I was engrossed and couldn't put the book down. Maybe it was just me, but more likely the author had a hard time beginning the story. Not to be negative, but the same situation repeats itself for the last two chapters of the book. They are just a little confusing with too much action and to many conclusions in a short amount of pages.

Nevertheless, negative points aside, this book was a pleasure to read!

I was worried that it would be simply a romance with little historical quality. I was happily surprised to find that the romance is tastefully added to this novel without taking over the tale. I mean, there is no kissing. For a world war 2-based book (or movie for that matter!) this is phenomenal. Not to mention a nice change. The story in this book focuses more on action and character development. There are two different perspectives: Clare Child's on the homefront of England, and a small remnant of the British division over near Dunkirk (and finally, at Dunkirk). Unfortunately, the latter group was hard to really ''get to know'' in this book. The author tended to over do it with English sayings and jokes. She also did this with Clare Childs in a sense, which showed the author has a more televised understanding of English people.

But I still enjoyed this book. It really captured the setting and mood of the time and location.

I hate to be negative again, since this was a pleasant book but I must add that this is not an intensely Christian book. In fact I was a little confused by the point of the author on that subject. I gather that she was trying to appease both Catholics and Protestants in this book. The main character comes to a good realization of God's sovereignty but I was left a little bewildered nevertheless.




In short, this book was not the most well-written and thought-out yet it captured my attention and interest for it's majority. Most of the characters were very realistic and enjoyable as was the setting. The romance was tasteful. This book is worth reading as a work of clean, accurate historical fiction.




I received a copy of this book from the publisher in exchange for my honest opinion.






England, 1940. Clare Childs knew life would change when she unexpectedly inherited the "Maggie Bright"--a noble fifty-two-foot yacht. In fact, she's counting on it. But the boat harbors secrets. When a stranger arrives, searching for documents hidden onboard, Clare is pulled into a Scotland Yard investigation that could shed light on Hitler's darkest schemes and prompt America to action. Across the Channel, Hitler's "Blitzkrieg" has the entire British army in retreat with little hope for rescue at the shallow beaches of Dunkirk. With time running out, Churchill recruits civilian watercraft to help. Hitler is attacking from land, air, and sea, and any boat that goes might not return. Yet Clare knows "Maggie Bright" must answer the call--piloted by an American who has refused to join the war effort until now and a detective with a very personal motive for exposing the truth.The fate of the war hinges on this rescue. While two men join the desperate fight, a nation prays for a miracle.