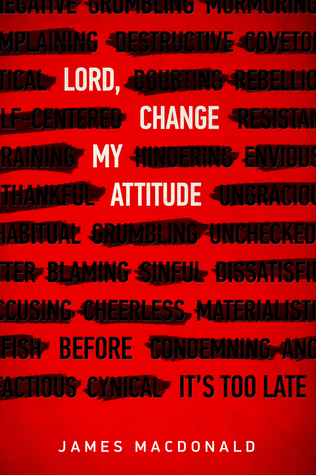 Lord, Change My Attitude: Before It's Too Late
by
James MacDonald
Change your attitude, change your life.
I am excited about this book! I hope many people will read it and really take the time to examine their hearts and attitudes about life! I know my life has been getting better since I really deeply examined my attitudes about everything and repented of my bad and selfish outlook on life! This book is an in-depth examination of the motives of our hearts. Although deep, this book is also easy to read because the author, James MacDonald has such a special and humble way of explaining things to people with clarity and compassion. Because of the author's openness and friendliness, this book has some humorous and very relatable points as well. I do recommend this book for men and women, young and old! The length of the book might intimidate younger readers but I encourage them to take it a chapter at a time and really think on the Biblical wisdom and go through the discussion questions.
I received a copy of this book from the publisher in exchange for my honest opinion.
We're very good at explaining why we're unhappy: bad job, bad relationships, bad luck. But there's probably a better reason: bad attitudes.
In
Lord, Change My Attitude
, James MacDonald shows us just how much our attitudes affect our lives. One of his bestsellers, this book is classic James: It's clear, it's inspiring, and it packs a punch.
Drawing from the experience of the Israelites who grumbled through the wilderness, MacDonald shows how bad attitudes rob us of joy. Coveting, complaining, and being critical are not what our hearts were made for. They were made for thankfulness, contentment, and love. Is your heart straining under the weight of a bad attitude?
Don't read this book if you're looking for a quick fix. Don't read this book if you're unwilling to change. Read it if you're ready for a serious, inside-out attitude adjustment.