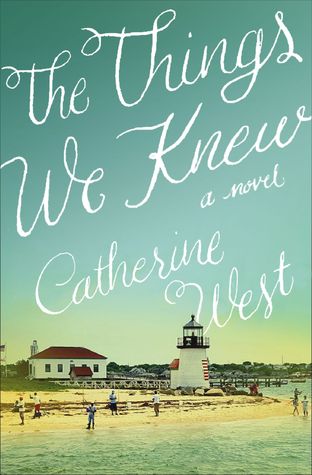 The Things We Knew
To be honest, I requested this book to review because of the cover. Isn't it beautiful? The font, the nautical style, the lighthouse image...this is a very well designed book! However, the content doesn't meet the quality of the cover. The story is supposed to be Christian but I feel it is just a murder mystery romance without anything offensive. Of course I appreciate this but was hoping the book had more eternal value in it. I love it when Christian novels pack in a spiritual message or a character growthi which sets the reader to thinking and examining their own life. I have read some Christian fiction which fits this category and this paperback wasn't one of those books. Besides, the story itself is morbid. The whole mystery thing involves discovering how the mother was killed and the revealed conclusion if not gory involves an adulterous relationship....I don't know why readers would want to read more about what is already too common around us.
As for the literary quality of this novel, it is not outstanding. Rather, it falls into the easy-read category of most fiction of our era. Nothing about this book expands the mind or challenges the brain and/or heart.
I received a copy of this book from the publisher in exchange for my honest opinion.
After her mother's death twelve years ago, Lynette Carlisle watched her close-knit family unravel. One by one, her four older siblings left their Nantucket home and never returned. All seem to harbor animosity toward their father, silently blaming him for their mother's death. Nobody will talk about that dreadful day, and Lynette can't remember a bit of it.
But when next-door neighbor Nicholas Cooper returns to Nantucket, he brings the past with him. Once her brother's best friend and Lynette's first crush, Nick seems to hiding things from her. Lynette wonders what he knows about the day her mother died and hopes he might help her remember the things she can't.
But Nick has no intention of telling Lynette the truth. Besides the damage it might cause his own family, he doesn't want to risk harming the fragile friendship between him and the woman he once thought of as a kid sister.
As their father's failing health and financial concerns bring the Carlisle siblings home, secrets begin to surface—secrets that will either restore their shattered relationships or separate the siblings forever. But pulling up anchor on the past propels them into the perfect storm, powerful enough to make them question all they ever believed in.