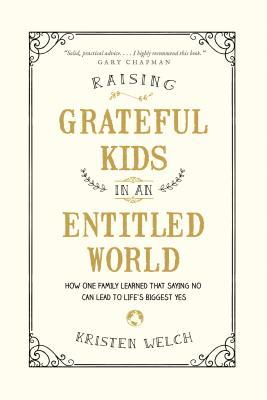 Raising Grateful Kids in an Entitled World: How One Family Learned That Saying No Can Lead to Life's Biggest Yes
From the first page of this book, I knew I could trust the author's sound Biblical wisdom and advice. The information contained within these chapters is reasonable and yet life-changing. Every parent would greatly benefit from reading this new book and putting into practice the truths within the pages. Also, the adult reading it just may be convicted as to their own selfishness and sense of entitlement in life. Where there is Biblical wisdom, God will do great things. I am not even a parent yet I found myself excited and motivated as I read this book, knowing I can use the methods with my younger siblings and to change my own selfish attitudes! The author, Kristen Welch delivers her information in this book with both love and understanding and firmness.
All families would greatly benefit from reading and putting into practice the wisdom in these pages.
I received a copy of this book from the publisher in exchange for my honest opinion.
More about the book...
"But everyone else has it." "If you loved me, you'd get it for me!" When you hear these comments from your kids, it can be tough not to cave. You love your children--don't you want them to be happy and to fit in?Kristen Welch knows firsthand it's not that easy. In fact, she's found out that when you say yes too often, it's not only hard on your peace of mind and your wallet--it actually "puts your kids at long-term risk." In "Raising Grateful Kids in an Entitled World," Kristen shares the ups and downs in her own family's journey of discovering why it's healthiest "not" to give their kids everything. Teaching them the difference between "want" and "need" is the first step in the right direction. With many practical tips and anecdotes, she shares how to help kids become hardworking, fulfilled, and successful adults.It's never too late to raise grateful kids. Get ready to cultivate a spirit of genuine appreciation in your family and create a home in which your kids don't just say--but "mean"!--"thank you" for everything they have.