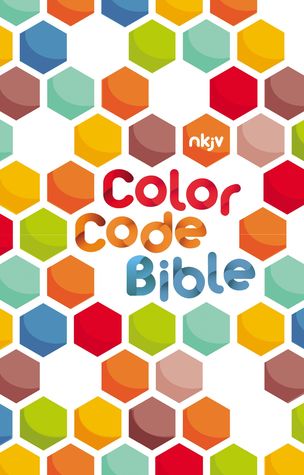 The Color Code Bible (NKJV)
Over 1600 passages are color-coded on important faith themes. The first New King James Version for Kids highlighted in full-color, this Bible will be simple for kids to read and understand.
With topics arranged by color, you will learn about salvation and how to put God's word into your daily faith walk. The topics/colors are:
Gold
: God
Navy:
Sin, evil,
Red:
Jesus
Orange:
washed clean from sin, new life
Green:
growth in your new life as a Christian and Faith Walk
Blue:
Prayer, Praise and Thanksgiving
Purple:
Heaven
A vibrant 64 pages in the beginning of the Bible will explain the color system as well as offer expanded study help features especially for a child's creative and imaginative mind!
The large, readable type, bold in-text subject headings, individual Bible book introductions, and color-highlighted verses all make this Bible a fantastic purchase for any child!
Full of bright colors, memorization aids, and the never-ending truth of God's Good News, the
Color Code Bible
is an exciting new way to study God's Word for everybody.
This fun Bible will totally appeal to children! The bright colors will catch their attention and help them memorize where certain portions of the Scriptures are found. Needless to mention, adults will also enjoy reading this particular publication of the Bible. The text is the accurate New King James Version with nothing altered. The color highlighting will help adults find verses easily, aiding them in memorizing the Bible as well. Children will also learn to see the flow of topics throughout the Bible; with the help of the color codes they will see topics repeating from Old Testament through to the New Testament. There will be less confusion in children's minds as to what is growth, new life, praise/thanksgiving, etc. It will also help with studies on heaven. This fun Bible is sure to please!
I received a copy of this book from the publisher in exchange for my honest opinion.