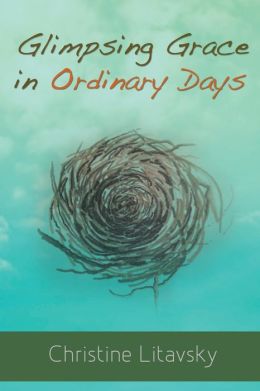 Glimpsing Grace in Ordinary Days
by Christine Litavsky
published by CrossLink Publishing
This is a simple book written with the warm and joyful style that only a loving mother can master. I enjoyed flipping through it, reading here and there of the author's experiences in life, smiling over the humorous incidents which Christine brings to life via the pages of this book. She has three children, she loves animals, she has a natural joy and zest for life. Most importantly, she loves God and wants to find His blessings in every portion of life.
I must admit that although each incident (chapter) ends with a praiseworthy note to God for the lessons learnt, afterwards I was able to remember the incident told but had a difficult time recalling the application.
This book reminds me of a pleasant blog. The chapters can be read at one's leisure; perhaps one a day to bring a smile to your day.
Some of the book will not be relevant to homeschoolers since the author doesn't teach her children at home. But as I discovered through a comment she made in one chapter, she does think highly of full-time mothers and the reader can still relate to most of the incidents in this wife and mother's life.
From the publisher's description:
Using true life stories from the author's everyday life, Glimpsing Grace in Ordinary Days reminds us that God is always at work, even when it's hard to see His hand in our daily routines. It helps readers pull out often-elusive glimmers of grace out of our chaotic world, examine them, and rest in the assurance that we are loved by God. Whether we're struggling with a divorce, remodeling a kitchen, or chaperoning a field trip, glimmers of grace are there, free for the taking, but we do need to reach out and grasp them. This book helps us remember we can.
Disclosure of Material Connection: I received a Review Copy free from the publisher through the BookCrash.com book review program. I was not required to write a positive review. The options I have expressed are my own. I am disclosing this in accordance with the Federal Trade Commission's 16 CFR, Part 255